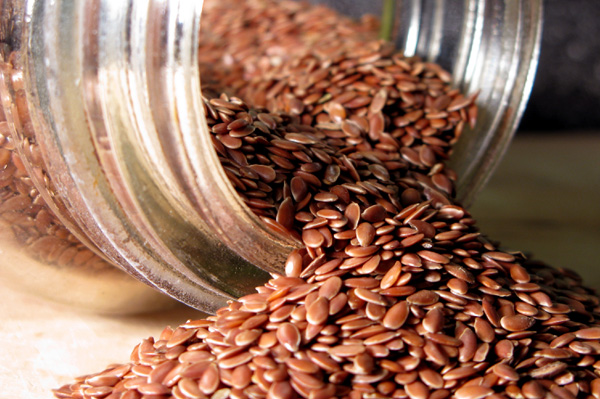 When I asked my friend and fellow yoga teacher: "What raw dish can you make with ground flax?" She told me to make a raw porridge!
Why didn't I think of that?
Here's the simple & easy recipe (of course it's
sattvic
too).
Flax Yum Porridge

2-3 tablespoons ground flax
handful of raisins
handful of dates, pitted
dash of cinnamon
dash of nutmeg
1 tablespoon of walnuts, chopped (or other raw nut/seed)
1 tablespoon of dried, unsweetened shredded coconut
1 tablespoon of tahini (or other raw nut butter)
1 banana, sliced
Combine everything in a bowl & mix well. Next add some warm water and continue mixing. The water will help mix all the ingredients and soften the raisins. Add as much water for the consistency you desire.
After my friend suggested it to me, I think I ate this porridge for breakfast everyday in August!! Yes, it's that good.
In case you're wondering, here's some FAQ's from the Flax Council of Canada ... yes, there's a council in Canada especially for FLAX.
Flax seeds are high in fibre and contain more than 50% alpha-linolenic acid, which is an Omega-3 fatty acid.
Ground flax is more nutritious than whole flax seeds. The outer shell of flax seeds are very tough and it's hard to crack them with your teeth when chewing. Grinding up the seeds makes them easier to digest and thus easier for the body absorb the nutrients. Whole seeds may pass through the body undigested.
Whole flax seeds can be kept for up to one year at room temperature. Ground flax, on the other hand must be kept in the fridge in an airtight container. Ground flax will keep in the fridge for up to 3 months.
There are no nutritional differences between brown or golden flax seeds.